All incoming freshmen will receive a photo ID for library use at no charge.

Replacement IDs cost three dollars.

Internet access is only granted when permission slips are on file.

Students are allowed to check-out up to 3 books for two weeks at a time. Overdue fines are $0.10 per day per item that is late. * Overdue fines will grow with everyday that the materials are not turned in. *

The Charger Cafe is only open to students before and after school. *Students will not be allowed to purchase anything during class time.*

Calculators may only be checked out with written permission from a parent or guardian.


Powered by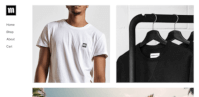 Create your own unique website with customizable templates.